Frequently Asked Questions (FAQ)
1. How to Write a Successful Statement of Purpose?
The statement of purpose (frequently asked questions faq on statement of purpose sop) should convince readers– the faculty on the selection committee– that you have solid achievements behind you that show promise for your success in graduate study. Think of the statement of purpose as a composition with four different parts.
Part 1: Introduce yourself, your interests and motivations
Tell them what you're interested in, and perhaps, what sparked your desire for graduate study. This should be short and to the point; don't spend a great deal of time on autobiography.
Part 2: Summarize your undergraduate and previous graduate career
a) Research you conducted. Indicate with whom, the title of the project, what your responsibilities were, and the outcome. Write technically, or in the style of your discipline. Professors are the people who read these statements.
b) Important paper or thesis project you completed, as well as anything scholarly beyond your curricular requirements.
c) Work experience, especially if you had any kind of responsibility for testing, designing, researching or interning in an area similar to what you wish to study in graduate school.
Part 3: Discuss the relevance of your recent and current activities
If you graduated and worked prior to returning to grad school, indicate what you've been doing: company or non-profit, your work/design team, responsibilities, what you learned. You can also indicate here how this helped you focus your graduate studies.
Part 4: Elaborate on your academic interests
Here you indicate what you would like to study in graduate school in enough detail to convince the faculty that you understand the scope of research in their discipline, and are engaged with current research themes.
a) Indicate the area of your interests. Ideally, pose a question, define a problem, or indicate a theme that you would like to address, and questions that arise from contemporary research. This should be an ample paragraph!
b) Look on the web for information about departments you're interested in, including professors and their research. Are there professors whose research interests parallel yours? If so, indicate this. Check the specific program; many may require you to name a professor or professors with whom you might work.
c) End your statement in a positive manner, indicating your excitement and readiness for the challenges ahead of you.
Essential Tips (frequently asked questions faq on statement of purpose sop)
1. What the admissions committee will read between the lines: self-motivation, competence, potential as a graduate student.
2. Emphasize everything from a positive perspective and write in an active, not a passive voice.
3. Demonstrate everything by example; don't say directly that you're a persistent person, show it.
4. If there is something important that happened to you that affected your grades, such as poverty, illness, or excessive work, state it. Write it affirmatively, showing your perseverance despite obstacles. You can elaborate more in your personal statement.
5. Make sure everything is linked with continuity and focus.
6. Unless the specific program says otherwise, be concise; an ideal essay should say everything it needs to with brevity. Approximately 500 to 1000 well-selected words (1-2 single space pages in 12 point font) is better than more words with less clarity and poor organization.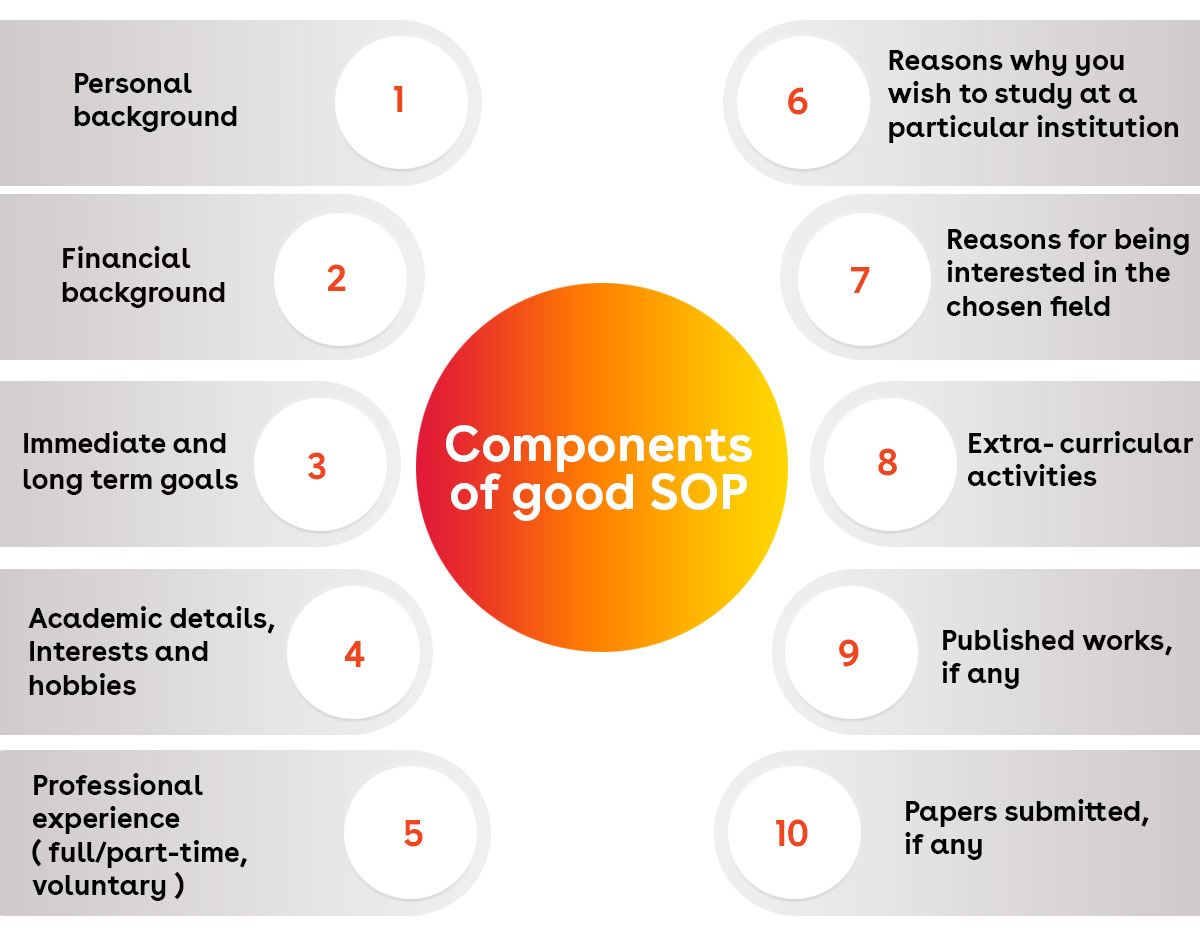 2. Do I need to put my name in the statement of purpose heading?
In general, no, you don't need to put your name on your SOP. The reason is that your statement is a part of your larger application which already has your name throughout it. However, it is important to look at the specific requirements for the program you're applying to. If the requirements for your program say that you should include your name, then you should follow those directions.
3. How long should a statement of purpose be?
Many students are doubtful regarding statement of purpose length and its importance. A statement of purpose should really be one page and only one page. You could write up to one and a half pages if needed, but nothing longer than this. The reason is that you need to be economical with your writing and not overwhelm your readers. Admissions officers departments read dozens of applications a day, so you are going to need to be able to concisely and clearly state what you want to say. Writing longer than 1 – 1.5 pages will make you seem like you lack focus and clarity in your purpose for school. Get rid of all unnecessary data, like descriptions of your grades, anyway, they can be found in your GPA paper.
4. Tips for writing a perfect letter of recommendation
Here are some tips you can use to help guide you through the process of writing a letter of recommendation (frequently asked questions faq on statement of purpose sop).
1. Create a new letter for each recommendation
While it can be helpful to have a basic template, make sure you customize each letter with specific details that highlight the candidate's qualifications. Try to sketch a general outline before you begin to ensure you don't miss any of the key points you want to include regarding the candidate's qualifications.
2. Review the resume
Before you begin writing, review the candidate's or student's resume to get a complete overview of the types of experiences they have had in other jobs. Having a full understanding of their background can help you write a more thorough letter that addresses their strengths and specific goals they're working toward. You could also look for any areas that may need improvement on and suggest edits to the candidate or student.
3. Request some bullet points
To save yourself time and ensure you touch on the points that the candidate feels are most important for the position, suggest that they provide you with a list of bullet points or a few paragraphs that you can refer to. They might provide you a draft of the letter that you revise in your own words.
4. Prepare a list of qualities
As you review the resume and job description, compile a list of qualities and accomplishments you believe highlight the candidate's qualifications. You could also ask the candidate to share their most marketable assets for the type of work they want to do, especially ones that you may have observed in the position they had while working with you.
5. Introduce yourself
It's typically a good idea to introduce yourself in the first few lines in the letter. Give a brief sentence or two explaining your position and your relationship to the candidate. While it's not necessary to go into depth with your history, this will help give the letter context and explain why you are in a good position to recommend this person.

6. Include language from the job description
Ask for a copy of the job description so you can review what the employer is looking for. Review the job description closely so you can address the specific requirements for the position. In the event that you're writing a general recommendation, you can ask them for an example of two jobs for which they are applying so that you can write a more general recommendation that could apply to either.
7. Focus on one or two qualities
Pick one or two qualities that you feel make the candidate a good fit for the position. Support those statements with specific instances in which the candidate demonstrated those qualities. For example, talk about obstacles they overcame or challenges they tackled to reach their goals. You may want to include two paragraphs for the main body of the letter and focus on one achievement and the other on the person's character with things like fortitude, integrity, work ethic or standards to which they hold themselves.
8. Quantify the strengths
If possible, try to quantify the candidate's strengths or rank them with other applicants or colleagues. For example, "She has the best analytical skills of any person I've worked with during my ten years at the company" or "He was one of the most astute students in my classes since I began teaching 17 years ago." If you can, include quantifiable results that the candidate achieved while working with you. For example, "He was integral in our ability to grow our website traffic 25% over the course of six months, which resulted in a 10% increase in sales."
9. Discuss their potential
Include in the letter why you believe the candidate would excel in the role given the opportunity. Some things you may want to include are their:
• Ability to work as part of a team
• Ability to work independently
• Strengths, skills and talents you believe will position them for future success
10. Be enthusiastic
Your goal is to help the candidate stand out from the other applicants for the job or college program they are applying for. Express your enthusiasm for how ideal you believe they would be for the role. One easy way to do this is to tell the recipient of the letter that you would gladly re-employ them again within your own department.

11. Use active voice
Write using active voice instead of passive voice for a more powerful letter of recommendation. Active voice makes your meaning more clear for the person reading your letter and keeps your sentences more concise because fewer words are required to express action in active voice. To change passive sentences to active ones, put the subject first in the sentence so it's clear who's performing the action. For example, "The car was hit by the truck" is in passive voice. "The truck hit the car," is in active voice because it shows first who's doing the action.
12. Include your contact information
Provide a way for the potential employer or admissions office to contact you for further information or with any questions they may have about the candidate. Mention an eagerness to share additional insight into the candidate's qualifications. You can include your email address or phone number in the conclusion of the letter or place it after the signature.
13. Proofread
It's important to take the time to proofread the letter thoroughly to avoid typos and grammatical errors. You may even want to read the letter aloud so your eyes don't skim over words and overlook possible errors.
14. Use the right format and length
Write your letter using standard font and print size, usually Times New Roman 12-point for printed letters or Arial 11-point font for electronically submitted letters. If you are printing, check to make sure the margin is approximately one-inch wide. The length should be between two-thirds and one full-single spaced page.
15. Follow the submission guidelines
5. How to Make a Better LinkedIn Profile?
Here are 20 profile features you should check to give you the LinkedIn profile (frequently asked questions faq on statement of purpose sop)and personal brand that you deserve.
1. Choose the right profile picture for LinkedIn
Your profile picture is your calling card on LinkedIn – it's how people are introduced to you and (visual beings that we are) it governs their impressions from the start. There are some great posts explaining how to pick the right profile picture on LinkedIn – but here are some quick tips to start with: make sure the picture is recent and looks like you, make up your face takes up around 60% of it (long-distance shots don't stand out), wear what you would like to wear to work, and smile with your eyes!
2. Add a background photo
Your background photo is the second visual element at the top of your profile page. It grabs people's attention, sets the context and shows a little more about what matters to you. More than anything, the right background photo helps your page stand out, engage attention and stay memorable.
3. Make your headline more than just a job title
There's no rule that says the description at the top of your profile page has to be just a job title. Use the headline field to say a bit more about how you see your role, why you do what you do, and what makes you tick. If you've got sales reps at your company who are on the ball with social selling, then take a quick look at their profile page headlines for inspiration. They will almost certainly have more than their job titles in there.
4. Turn your summary into your story
The first thing to say about your LinkedIn summary is – make sure you have one! It's amazing how many people still leave this field blank when creating their LinkedIn profile. Your summary is your chance to tell your own story – so don't just use it to list your skills or the job titles you've had. Try to bring to life why those skills matter – and the difference they can make to the people you work with. Don't be afraid to invest some time, try a few drafts, and run your summary past people you know. This is your most personal piece of content marketing – and it's worth the effort.
5. Declare war on buzzwords
Buzzwords are adjectives that are used so often in LinkedIn headlines and summaries that they become almost completely meaningless. Our regular rankings of the most over-used buzzwords include terms like 'specialized', 'leadership', 'focused', 'strategic', 'experienced', 'passionate', 'expert', 'creative', 'innovative' and 'certified'. Now I'm not saying you can't describe yourself as these things – or that they don't matter. However, just using these words won't convince people that you have these qualities. You need to demonstrate them as well – both in the way you describe yourself, and in the way you use LinkedIn profile features to show what you're about.
6. Grow your network
One of the easiest and yet most relevant ways to grow your LinkedIn network is to synch your profile with your email address book. This enables LinkedIn to suggest people you could connect with. It's amazing how effective this can be at surfacing relevant people for you to reach out to – and no connection requests are sent without your permission, so you can vet all of the potential connections. Beyond this, get into the habit of following up meetings and conversations with LinkedIn connection requests – it's a great way of keeping your network vibrant and up to date.
7. List your relevant skills
It's one of the quickest of quick wins on LinkedIn – scroll through the list of skills and identify those that are relevant to you. Doing so helps to substantiate the description in your Headline and Summary, and provides a platform for others to endorse you. However, the key here is staying relevant. A long list of skills that aren't really core to who you are and what you do, can start to feel unwieldy. Take time for a spring clean of your skills list every now and then.
8. Spotlight the services you offer
Services is a new LinkedIn feature that helps consultants, freelancers and those working for smaller businesses to showcase the range of services that they offer. Filling out the Services section of your profile can boost your visibility in search results.
9. Spread the endorsement love
Endorsements from other members substantiate your skills and increase your credibility. How do you get endorsed on LinkedIn? For starters, go through your network and identify connections who you feel genuinely deserve an endorsement from you – that's often the trigger for people to return the favor. Don't be afraid to reach out with a polite message asking for endorsement for a few key skills as well. Remember though – relevance matters. Reach out to people whose endorsement you'd really value.
10. Manage your endorsements more proactively
Once endorsements start to come in, you might find that they skew the emphasis of your LinkedIn profile in ways that don't reflect who you are. It could be that your core area of expertise is content marketing for example, but the people who've worked with you on events are more enthusiastic endorsers. Be proactive in managing your endorsements list using the edit features in the Skills section of your profile – you can choose which to show, and which to hide.
11. Take a skills assessment
A skills assessment is an online test that enables you to demonstrate the level of your skills, and display a Verified Skills badge on your profile. Data shows that candidates with verified skills are around 30% more likely to be hired for the roles they apply for – and displaying proof your abilities strengthens your personal brand more generally as well. Displaying the results of your skills assessments is entirely voluntary, and you can retake the tests as often as you like before showing that you've passed.
12. Request recommendations
Endorsements give people viewing your profile a quick, visual sense of what you're valued for. Recommendations take things a step further. They are personal testimonials written to illustrate the experience of working with you. There's a handy drop-down menu in the Recommendations section of your profile that makes it easy to reach out to specific contacts and request recommendations. Take the time to think about who you would most value a recommendation from – and personalize your request. It's worth the extra effort.
13. Showcase your passion for learning
When you complete a course on LinkedIn Learning, you'll have the opportunity to add a course certificate to your LinkedIn profile. You do this from within the Learning History section of your LinkedIn Learning account – where you can also send updates about your learning to your network if choose.
14. Share media and marketing collateral
The marketing collateral that you produce for your business can add an extra dimension to your own profile as well. Sharing case studies, white papers and other brand content helps to show what the business you work for is all about – and helps people understand what makes you tick. It demonstrates passion and commitment as well.
15. Get credit for your thought-leadership with Publications
The Publications section is one of the most under-used elements in LinkedIn profiles – and that means that you can really stand out from the crowd when you use this feature to draw attention to existing thought-leadership content. Have you helped to write an eBook or a White Paper? Or written a post on your company's blog? The Publications section links your profile to these assets.
16. Share relevant content from your LinkedIn feed
It's one thing to have a network of connections on LinkedIn – it's far better to have an active role in that network, appearing in your connections' LinkedIn feeds in a way that adds value for them. Sharing relevant content with your network is one of the most accessible ways of doing this. You can make a start by keeping a close eye on your LinkedIn feed, and sharing content that you find genuinely interesting – and that aligns with your point of view.
17. Add comments
Sharing is great – but it's just the starting point. When you add comments to your shares, you give yourself greater prominence within the feed and start to express why you think a particular piece of content matters. Well-expressed comments also enable you to share a broader range of content. It might be that you don't agree with a point of view but still find it interesting, for example. A comment that can express that viewpoint starts to establish your opinion and thought-leadership. It's also more likely to draw additional comments, which then raise your profile across LinkedIn. Bear this mind when you're writing your comment – and make sure you're saying something you're happy for people to associate with you.
18. Follow relevant influencers for your industry
Following relevant influencers on LinkedIn helps to put a range of interesting content in your feed, which you can then share with others when you think it adds value. It also helps to give context to your LinkedIn profile, demonstrating your passion for what you do.
19. Become an employee advocate
LinkedIn Elevate is our platform for helping businesses to launch and manage employee advocacy programmes – and it generates some fascinating insights on the impact that employee sharing has for those doing the sharing. In fact, 86% of employee advocates say that sharing content for their business has had a positive effect on their own career. If your business is using Elevate, then it's a great way to take a more active role in getting your brand content out there. If it's not, then it's still worth reaching out to colleagues and asking who's producing content that would be worth sharing on LinkedIn.
20. Publish long-form content – and use it to start conversations
The more you share and comment on content, the more you establish your expertise and thought-leadership credentials on LinkedIn. Publishing long-form posts is the natural next step to take. A great starting point is to monitor the response that you get to your comments and shares. Are there particular subjects and points of view that seem to resonate with your network? Are there comments that you have shared which you feel you could expand on in a post? Evolving your thought-leadership in this way keeps it real – and keeps you plugged into the issues your connections are talking about. Be ready for your long-form posts to start new conversations too. Keep an eye on the comments and be ready to respond.